08 Nov

The Best Thoughtful Gifts for People with Anxiety

*disclaimer: this post may contain affiliate links and mental health triggers… and it will definitely contain curse words, hard truths, hope, inspiration, and love

psa: there are LOTS of good links in here so this post is going to load slowly. please be patient.

People with anxiety are my kinda people. Ruminating thoughts? Oh, hey! Heart palpitations? I see you! Sweaty palms? Same girl, same! Panic attacks? WHATTUP?!

Obviously, just kidding! Nothing about struggling with anxiety is fun… which is why I am sharing the best thoughtful gifts for people with anxiety. Gotta show our loved ones (or ourselves) some love when they (or we) need it the most! 

And here's the thing. The anxiety struggle is real no matter the time of year. Whether you are reading this post during the holiday season or it's just another Tuesday, someone you know and love may benefit in a great way from one of these thoughtful gifts to help alleviate and calm their feelings of anxiety in an effective way.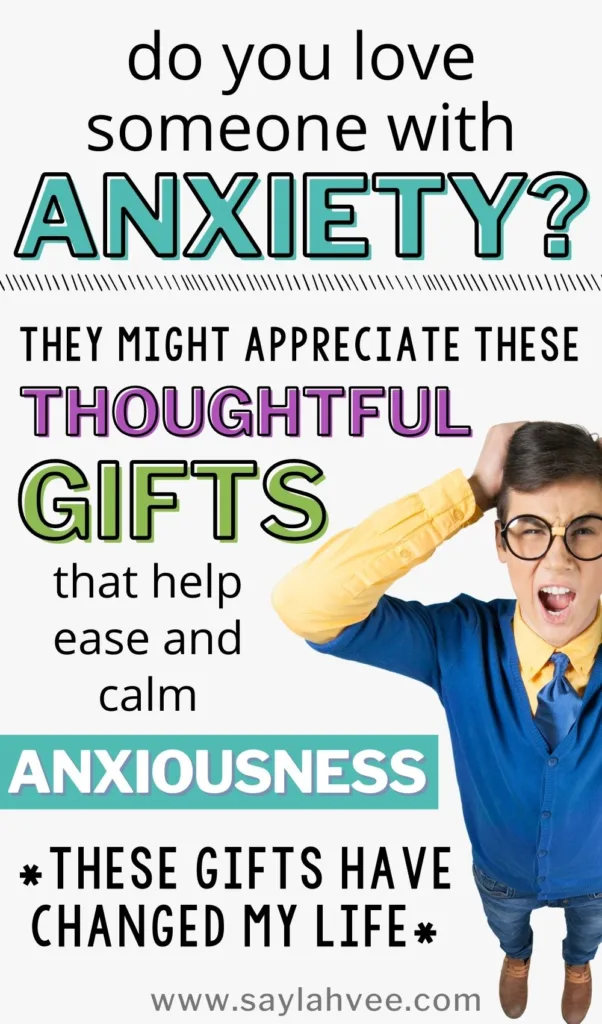 The word 'anxiety' is more or less part of everyday conversation these days. Not everyone suffers from anxiety disorders, but everyone will feel anxious from time to time. Having the right tools to calm, manage, and work through anxiety is incredibly helpful for anyone suffering. 
Anxiety Disorders are defined as a type of mental health condition. There are quite a few different types of anxiety disorders that impact people differently. But also… Let's normalize compassion regardless of whether or not someone is diagnosed with a disorder at all. Anxiety sucks no matter what, but thoughtful gifts from loved ones and family members always help! 
PSA: YOU DO NOT HAVE TO HAVE AN ANXIETY DISORDER TO STRUGGLE WITH ANXIETY.
I want to share some of my favorite thoughtful gifts for people with anxiety for a couple of reasons. Mostly because anxiety symptoms are no joke and small things can help in a big way to someone who is struggling. But also, because people who struggle with their anxiety and mental health typically do not buy themselves the things/tools they need to support themselves. So bookmark or pin this post and refer back often when you want to send some love to someone who struggles with anxiety. 
Before we figure out who to gift what to, we need to understand the symptoms of anxiety so we can know how to support each individual.
Feelings and symptoms of anxiety are all encompassing and depleting. They can be enough to knock you off your feet and keep you off your feet for the entire rest of the day (or even the rest of the week or month if you're anything like me). Because of this, the gifts I have listed below are thoughtfully curated to support different impacts of anxiety. 
Some generalized symptoms of anxiety include but are not limited to… panic, fear, uneasiness, not being able to fall asleep or stay asleep, not being able to stay calm and still, cold, sweaty, numb, or tingling hands or feet, shortness of breath, hyperventilation, heart palpitations, dry mouth, nausea, muscle tension, dizziness, rumination, inability to concentrate, intensely or obsessively avoiding feared objects or places… just to name a few.
Sounds fun, right? Those are all things that anyone may experience while feeling anxious in the moment or suffering from an anxiety disorder long term. 
The Best Thoughtful Gifts for People with Anxiety
The ideas below are great gifts for someone who struggles with anxious thoughts, anxious feelings, or just plain ol' anxiousness in general. I broke these down into different aspects of anxiety support to help you narrow down what to give to whom. 
Looking at thoughtful gifts for anxiety by the type of support it provides can be incredibly helpful when trying to gift intentionally. Not everyone feels supported by the same things, so what works for me may not work for the person you are trying to give a gift to.
When you are looking for thoughtful gifts for people with anxiety, try to consider what might soothe them and their symptoms the most… rather than what seems the most cute or trendy. Okay, here we go! 
The gifts below are for the person in your life who puts everyone else first and could use a little self care and self love to help support their anxiety.
Essential Oils + Essential Oil Diffuser
Aromatherapy is when essential oils are used to promote well-being. Aromatherapy works wonders for anxiety, which is why I have essential oils and essential oil diffusers at the top of the list. Aromatherapy helps anxiety by triggering your senses, which sends messages to your nervous system that it's okay to chill the fuck out. 
Essential oils and diffusers can make a super cute little gifting moment when pulled together intentionally. I suggest purchasing a few different scents along with a diffuser that matches the general vibe of the person you are gifting. I know for me, I don't use things unless they are in plain sight, so being gifted a cute diffuser to keep on our coffee table would definitely increase the chances of me actually using the oils to help my anxiety. 
Similarly to essential oils, bath salts have a great impact on anxiety due to aromatherapy. Taking it a step further, bath salts and bath bombs make great anxiety gifts because of chemical components, such as magnesium. Magnesium is a mineral that plays a huge role in our brain functionality and in turn, impacts our anxiety. It is said that magnesium may be beneficial to boost our brains and moods… so a bath bomb might be a great calming gift for people with anxiety. 
Here's the tea on herbal tea ( ← see what I did there?)… Herbal teas have been used for thousands of years to improve health and sleep while decreasing stress and anxiety. While there is not much scientific evidence that these results are directly impacted from tea, there's a reason people keep coming back to tea after all these years. 
A cute little herbal tea set might be the perfect option for the person struggling with anxiety and in need of structure with maybe a good morning or evening routine. A tea set can help put a little ritual into place which can increase the odds of actually using this coping tool which will in turn, help with anxiety.
The gifts below are for the person in your life who needs to quiet the noise they are drowning in  to help support their anxiety.
Mindfulness can help anxiety by supporting the brain in finding ways to turn inward and find stillness. Mindfulness does not work for everyone, so try to keep that in mind when you are thinking about gifts. Not everyone will benefit from or enjoy these kinds of gifts. 
Those who do love to support their anxiety through mindfulness tactics usually lean towards coloring books, weighted blankets, and journals. 
I'd also like to mention that I am 100% NOT a mindfulness kinda gal but the coloring books and journals I am linking for you below are GAME-CHANGERS for me. 
I lovelovelove adult coloring books, but honestly… only certain ones. My anxiety can be fueled by my perfectionism so some coloring books can do more harm than good for me. 
I prefer coloring books that have thicker lines and bigger coloring spaces. Mandalas are not my jam. I also really like coloring books that give a guide on what colors to use where. 
Sometimes, I know I NEED to color for the calming/mindfulness effect, but I can't actually start because I get so hung up on what color to use where. The thing with adult coloring books for anxiety, is that it's not so much about the arts and crafts as it is about the mindfulness impact, so getting caught up on colors can actually have a backward effect.
I just like to call this quirk out because if you're not someone who struggles with severe anxiety or OCD this may not be on your radar. But it's incredibly important to understand when trying to support someone who does struggle with anxiety. 
Weighted blankets evoke Deep Pressure Therapy, which is kinda the whole reason weighted blankets became a thing to begin with. Weighted blankets basically put our nervous system into 'rest' mode by applying weight which helps control things like breath and heart rate which play into our anxiety.
Once those two things are under control, anxiety and panic attacks get easier to navigate. So these blankets are a great tool to help get anxiety to a manageable place and I def recommend trying one if you have not yet!
An anxiety journal is a great calming gift for people with anxiety. But there are SO many different options, where do you even start?
Well, if the person you are gifting sucks journaling just as much as I do, the easy guided journals below will be your jam. Personally, the more curse words and coloring pages, the better IMO. 
The thing about journaling for me is, staring at a blank page that I'm supposed to write thoughts and feelings on, and not knowing where the heck to start is enough reason for me to burn my journal and never look back. Meanwhile, easy guided journals provide support and I'm not gonna lie, I kinda look forward to journaling now and feel a bit bummed when I miss a day.
The easy guided journals I choose to use, ask out of the box yet thought provoking questions. They don't ask me to talk about the highlight of my day or count my blessings. I get challenged to shift my mindset and think about things differently. Which is what is needed in my healing journey. 
Anxiety exacerbates feelings of stress so if you are trying to find thoughtful and calming gifts for people with anxiety who are also prone to stress, this section is for you. 
Oftentimes, stress lives in our bodies which is why so many experts suggest exercise to maintain stress levels and general mental health. But what if it's 2pm and there are back to back calls on the calendar for the rest of the afternoon? There is no time to go for a run or spend some time beating up a punching bag…
And that's where these little stress relieving gifts for anxiety can be super helpful for the person who also struggles with stress or maybe just had a stressful day. 
Again, stress balls are one of those things that are not backed by research, but there's no harm in trying it out. If it helps, great… if not, whatevs. I think a stress ball is a great option for the person with a bit of a temper and/or social anxiety.
If you have a friend who is always squeezing her fists when other people are talking, a stress ball is100% for that person. For some weird reason, I refused to buy myself a stress ball, but after being gifted one… I am so grateful and wish I had picked one up sooner.
Fidget Spinner / Fidget Cubes
Fidget spinners are a great Rapid Stress Management Technique (RSMT) to help ease your anxiety. This method is especially helpful for people who struggle with environmental sensitivity when it comes down to how they are impacted by their anxiety. 
Sometimes people just need to straight up relax when they are struggling with anxiety. But try telling someone who needs to relax to actually relax. LOL. Good luck! 
I love these relaxing gift ideas because they are things I would 100% never buy myself, but find them to be incredibly helpful when it comes to calming my anxiety. 
Zen Gardens are the perfect gift for your anxiety prone 9-5 bestie. This anxiety reducer conveniently sits on a desk, so it's really easy to rake some sand in the zen garden while on a conference call or take a quick few minutes to reset after getting a frustrating email. 
White noise and nature sounds are great for anxiety! I'm not sure if you've noticed yet… but all of these gifts are basically rooted around your 5 senses. So naturally, a sound machine is great for your loved one or family member who responds well to calming sounds, does not sleep well, and struggles with ruminating thoughts. 
Heating Pad Blurbs about benefits
Heat relieves tension so a heating pad is the way to go for your friend who carries all of her stress in her body and is constantly talking about needing a massage but can't afford it or find the time. Resting your shoulders on the heating pad, or laying the pad across your chest are two great ways to quickly reset your anxiety.
Yoga Mat + Home Subscription Blurbs about benefits
We ALL know yoga is great for anxiety. Being used as a vessel to help you quiet your mind and be present in your space… yoga is also perfect for the person who holds tension in their body and cannot quiet their mind. Not everyone has the time or money to make it into a yoga studio, so a yoga mat along with an at home subscription could be the perfect anxiety reducing gift.
General/Last Minute Gifts
If you are short on time or just having a hard time narrowing down the above, I've got you covered! There is 100% nothing wrong with taking a vague approach to finding a thoughtful gift for people with anxiety. I would just say to keep the vague approach somewhat in the anti-anxiety realm to maintain the integrity of your thoughtfulness with the gift. And to also maintain supporting the person who needs support. 
If someone were to gift me a $50 Visa gift card, I would definitely NOT use it on things needed to support my anxiety and mental health. Which is why I am recommending some vague but also anxiety tailored gifts for your loved ones.
Gift Card / Gift Certificate / Virtual:
In Person Therapy Sessions, Online Therapy, or Therapy App:
Better Help: affordable and flexible with plans, you get to see all available therapists on their website. VIEW MORE HERE
Talk Space: flexible plans, easy to switch therapists, video, phone, or message therapy available, medication management. VIEW MORE HERE
Cerebral: membership plans available, online therapy, medication management, insurance accepted. VIEW MORE HERE
Meditation App:
At home Spa Day Supplies: Peep my friend Rachel's post for 11 Cheap and Easy Ideas for an At Home Spa Day
Gift Card to your Local Bookstore
And there we have it, friends! I have a very very hard time receiving and gifting is totally not my love language, but if I HAD to choose gifts to support my anxiety, I would be so incredibly grateful to receive everything I have listed above. 
Not sure where to go next? Peep the posts below!