12 Oct

The Best Affordable Weighted Blankets for Anxiety

*disclaimer: this post may contain affiliate links and mental health triggers… and it will definitely contain curse words, hard truths, hope, inspiration, and love

Before I knew that weighted blankets for anxiety were a thing, I would always see advertisements for those Thunder Jackets for dogs and I'd think to myself "Woah that's smart, I wonder if I can fit into one of those!"

But then I found out that weighted blankets were actually a thing and thank goodness I did… mostly for the sake of the person working cash wrap at PetCo because that definitely saved us both an odd interaction… but also thank goodness for me because my weighted blanket totes 100% helps my anxiety and probs works much better than a Thunder Jacket for dogs.

It's kinda funny looking back, because it totally makes sense that I love weighted blankets. I know this sounds weird but back before I had mine I would ask my fiance, Mike, to lay on top of me whenever my anxiety was super bad and could not get it to settle. Which is also funny because at the time I didn't know that asking Mike to lay on top of me to support my anxiety was an actual legit form of therapy called Deep Pressure Therapy. 

Deep Pressure Therapy is kinda the backstory to weighted blankets. Weighted blankets basically put our nervous system into 'rest' mode by applying weight which helps control things like breath and heart rate which play into our anxiety. Once those two things are under control, anxiety and panic attacks get easier to navigate. So these blankets are a great tool to help get anxiety to a manageable place and I def recommend trying one if you have not yet! 
My Favorite Affordable Weighted Blankets for Anxiety:
Below is a list of my favorite affordable weighted blankets for anxiety. I broke them down into categories to hopefully help you streamline finding the perfect blanket for your needs.
My Personal Weighted Blanket
I use the Gravity Blanket IRL which is why it's at the top of my list. While I've ordered and tested the rest of the weighted blankets on this list, the Gravity Blanket is my fave and I'm currently snuggled under it as I write this post. I love this blanket because I can feel the weight which calms my anxiety, but I don't feel smothered in the blanket and I also don't get too hot which is definitely my biggest concern when it comes to picking my weighted blanket. 
The Omnistyle Warming and Cooling Weighted Blanket for Anxiety is great for people who live in a climate and experiences different seasons. With each side of the blanket made of a different material, it supports both warm and cool sleepers which is great for changes in temperature. This blanket also comes with plenty of weight and size options, and is also machine washable which makes caring for your blanket super easy.  
TBH the Hellomoto – 12 Heat Settings and Auto Shut Off Weighted Blanket is on my list of things to buy when I have some extra 'treat-yo-self ' money. Not only is it SO cute, but I LOVE the multi-level heating option. And they even added an auto shut off feature, as if they KNEW someone with anxiety would have panic attacks about burning the house down if they fell asleep with the blanket on.  Another thing I love about this blanket is the way they've controlled the weight distribution by sewing small squares to manage the weighted beads inside the blanket. 
WONAP 100% Natural Bamboo Cooling with Premium Glass Bead is a great option if the eco-friendly and natural factor of your blanket is important to you. This weighted blanket is made of 100% breathable Natural Bamboo fabric which has a natural cooling factor which is great for all of you hot sleepers out there. It's also noiseless, which isn't something most people think about until after they've committed to a weighted blanket and start to notice the noise of the bead shifting with each move.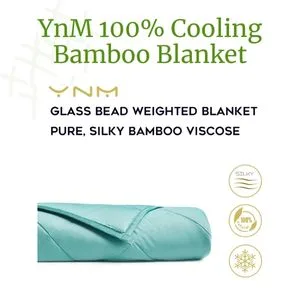 YnM Oeko-Tex Certified Premium Cotton with Glass Beads features a 7 layer system that is designed to contour to your body which creates this really natural hugging effect that not all weighted blankets have. This blanket also offers a lot of options from size to weight… but also material and color. You are able to choose from a cotton/french linen, cooling bamboo, or a cozy-minky fabric. If you are looking for a cooling weighted blanket with customizable options, this blanket will be a great fit for you.
The Reversible Rainbow Faux Fur Sherpa is a great middle of the road weighted blanket option. TBH, this isn't my absolute favorite. I think what I love most  about it is the cuteness factor. I'm definitely a big believer that certain visuals can impact how we feel, which is probably why I love this  blanket so much. It's just whimsical and happy which is really nice when you're in the middle of drowning in anxiety. It's also a great price  point compared to most of the other blankets on this list.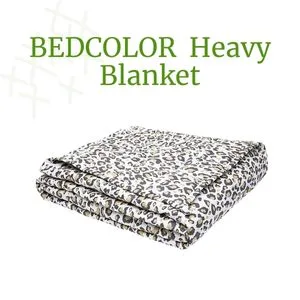 The BEDCOLOR Weighted Blanket is a lightweight 100% Organic OEKO-TEX Standard option which is soft and breathable for a comfortable night's sleep, especially if you are a hot sleeper. AND, it's cute!! This blanket is put together with 7 layers and small sewn squares to maintain the integrity of how the weight is dispersed  in this blanket.  
The YnM 100% Cooling Bamboo Blanket is silky soft and is made of 100% bamboo viscose face fabric and premium glass beads that offers a really great cooling factor. This weighted blanket option also comes in a lot of cute prints, pretty colors, weights, and sizes to give you plenty of options to find the perfect anxiety blanket for your needs.
With almost 30,000 reviews and 4.5 stars, the ZonLi Cooling with Premium Glass Beads is definitely a no brainer if you are feeling overwhelmed with choices. Like many of the other options on this list, this weighted blanket is machine washable and features 7 layers with small squares sewn to maintain the integrity of weight distribution. The ZonLi also has many size, weight, and color options for you to choose from.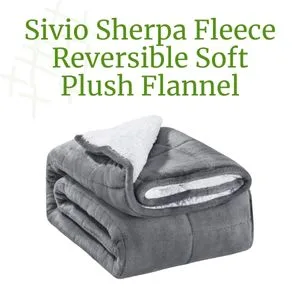 Get allllll the comfy, cozy, snuggle vibes with the Sivio Sherpa Fleece Reversible Soft Plush Flannel weighted blanket. It seriously feels like you are getting a big hug. Personally, I think this is a great camping blanket when you are getting near the end of camping season, especially because the fabric is fade resistant and smudge proof. 
The Uttermara Reversible Soft Plush Fleece Sherpa is another great weighted blanket for cold sleepers or any outdoor needs. I do feel like this blanket offers most of the same features as the one above, I just really wanted to include it because I think this one has a more plush/luxury vibe which may make it a better throw blanket option than the one above. 
What is your go to weighted blanket for anxiety?
Let me know in the comments below!
Not sure where to go next? Check out one of the posts below!